Newsletter of the Wheel-Trans community
Message from Dwayne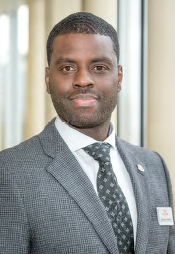 Over the next few months, the Wheel-Trans team will proudly roll out several initiatives to improve your customer experience.
In March, we said good-bye to our former Head of Wheel-Trans, Eve Wiggins, as she embarks on a new career outside the TTC. We wish her the best. Since Eve's departure, I have been appointed the Acting Head of Wheel-Trans, and am very excited to be leading Wheel-Trans through such an important transition. I've held several positions throughout my TTC career including Manager in the Bus Transportation department, Employee Relations Consultant in the Human Resources department and Manager in our Transit Control Centre. Last year, I was pleased to join the Wheel-Trans team as the Manager of Customer Service. Throughout each of these positions, I've always committed to transforming the customer experience, and as a team, we will continue to achieve this throughout the next phases of the Wheel-Trans 10-Year Strategy.
Recently, we opened the Humber College Access Hub, further expanding our services to better support the community. As a designated Wheel-Trans stop location, it features accessible seating, motion sensor doors and heaters and the ability to accommodate up to four people using scooters or wheelchairs. Later this year, we will introduce a mobile application, expand Family of Services routes, and make improvements to our contact centre to better serve you.
Thank you for your patience as we continue working on your behalf to make these initiatives a reality. I wish you all a safe and happy summer.
Dwayne Geddes
Head of Wheel-Trans (Acting)
Family of Services Update
Route expansion
Family of Services went through a second wave of expansion on March 12, 2019. A third wave of expansion is set for June, 2019.
Family of Services Wave 2 routes:
12 Kingston Road
16 McCowan
25 Don Mills
35 Jane
45 Kipling
63 Ossington
96 Wilson
100 Flemingdon Park
133 Neilson
186/996 Wilson Rocket
925 Don Mills Express
935 Jane Express
945 Kipling Express
512 St Clair Streetcar
Family of Services Wave 3 routes:
42 Cummer
116 Morningside
11 Bayview
24 Victoria Park
60 Steeles West
984 Sheppard West Express
985 Sheppard East Express
924 Victoria Park Express
960 Steeles West Express
929 Dufferin Express
995 York Mills Express
Four of the five original routes, choosing more accessible stops on each route:
84 Sheppard West
85 Sheppard East
95 York Mills
97 Yonge
Customers with conditional eligibility can take Family of Services trips which include any of the newly designated routes; each route has identified shared stops, where customers can change between a Wheel-Trans vehicle and a TTC bus, low-floor streetcar or subway station.
Coming this fall: Condition trip-matching
Family of Services will become mandatory for customers with conditional eligibility starting fall 2019. This means when you book your trip, you will receive a trip option based on your conditions; this could be a door-to-door trip, or a trip connecting Wheel-Trans with the conventional TTC. Family of Services trips have been offered to conditional customers since December 2018. For information on Family of Services, head to the Family of Services webpage. More information will be shared in the coming months.
Travel Training
Are you unsure of how Family of Services works, or fear the unknown about using the bus, subway or streetcar? Are you concerned about being re-registered?Travel Training can support your needs and help you become confident travelling around the city. This is the perfect time of year to try! Contact Wheel-Trans Customer Service to sign up now before there is a waitlist!
Access Hubs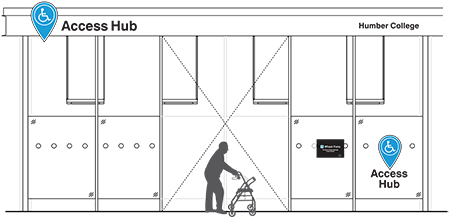 The second Access Hub located at the Humber College north campus is now open.
This Access Hub will connect Wheel-Trans customers to two new Family of Services routes: the 96 Wilson and 186/996 Wilson Rocket bus routes, as well as buses from YRT, Miway and Züm.
Ten more hubs will be constructed in key locations across the city; the next locations to be built are at Neilson and Ellesmere, Jane and Eglinton and Victoria Park and Ellesmere.
Re-registration of Wheel-Trans Eligibility
All customers registered for Wheel-Trans service before January 1, 2017, will be required to re-register to determine their new eligibility based on AODA legislation. Customers will be eligible for conditional, unconditional or temporary Wheel-Trans service. We expect to begin re-registration later this fall. If you are required to re-register, you will be contacted by Wheel-Trans. For more information on eligibility, visit the Wheel-Trans Eligibility Categories page
Understanding Your Bus Stop
The TTC's bus fleet is entirely accessible to people using mobility devices on all bus routes. Below is information about conventional bus service that may help you along your Family of Services journey.
Levels of service
You'll find colour-coded "lozenges" on TTC bus and streetcar stop markers, maps and signs throughout the city. These lozenges let you know which routes are being served at a specific location and what level of service you can expect.
Updated on January 5th, 2021:
Local service

Regular service
Operates all day, every day, until 1 a.m.

Limited service
Operates at limited times of day. Frequency of service varies by route. Some service does not operate during all periods.
Network service
Express Network
Express bus service, serving select stops. Frequency of service varies by route. Some service does not operate during all periods.

Community Bus
Neighbourhood midday service, Monday to Friday, connecting seniors' residences with local points of interest. Flag down anywhere along route.

Blue Night Network
30-minute or better service, from approximately 1:30 a.m. to the start of subway service (approximately 6 a.m. on weekdays and Saturdays; 8 a.m. on Sundays).
Additional service feature
Ten-Minute Network
One or more branches operate as part of the 10-Minute Network. 10-minute or better service from 6 a.m. to 1 a.m. Monday to Saturday; operates from 8 a.m. to 1 a.m. on Sundays.
New stop poles
Family of Services routes now have shared Wheel-Trans stop poles in place at transfer points where customers can connect between TTC and Wheel-Trans service. These shared stop poles have a Wheel-Trans decal on them, and a blue No-Show Ticket Posting where you can find any No-Show tickets. Customers waiting for a Wheel-Trans pick-up should always wait by the blue No-Show board.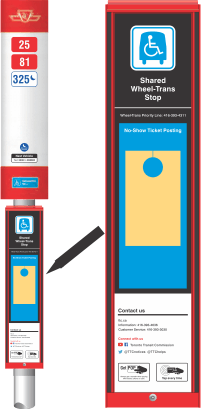 Technology Update
On December 8, 2018 Wheel-Trans launched its new self-booking website. The new site allows customers to book trips 24 hours a day, seven days a week, change regular or occasional trip details without having to cancel and re-book, review past trips and book Family of Services trips online. Resources are available in the help section of the self-booking website in PDF format or on YouTube.
Visit Help: How-To Resources on the Wheel-Trans booking portal.
Watch our video guides on the Wheel-Trans Booking Portal YouTube Playlist.
Call-out issue and waitlist fix
On February 24, 2019 an upgrade took place to fix some of the issues the new system had been experiencing. This included fixing the daily telephone call-out system, issues with the waitlist, address searches and wording changes.
Major changes are never without problems. While making improvements has impacted service, great strides have been made to modernize services for Wheel-Trans' growing and diverse customer base. Your patience and understanding are appreciated, and feedback is always welcome.
Coming soon
Wheel-Trans will introduce a smartphone app later this fall!
Customers will be able to book and modify trips. The app will also provide notifications to customers about their trips, elevators and escalators and TTC vehicles. Stay tuned for more information!
Message from ACAT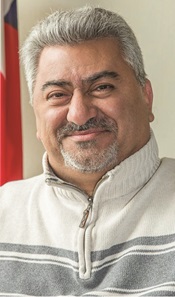 As an advocate for accessible transit and inclusion, I believe every person in Toronto should be able to access TTC's public transit services, regardless of their ability. It is the commitment of all ACAT members to work diligently within the committee and their respective subcommittees, as we work with the TTC to enhance all its accessible services, including Wheel-Trans.
ACAT has four subcommittees that address issues as they arise
Wheel Trans Operations Subcommittee (WTOps): members provided feedback on improvements to the self-booking website, Wheel-Trans stops and landmarks at common locations.
Design Review Subcommittee (DRS): members work with the TTC to bring subway platforms into compliance with standard gap tolerances. This includes reducing the size of vertical and horizontal spaces between the subway platform and train. Members also worked closely with TTC and PRESTO to ensure the fare payment system is accessible.
Communications Subcommittee (CS): members worked closely with TTC to create tactile info and braille at certain bus stop poles, which will be piloted this summer. In addition, they contributed to the "first on, last off" campaign. Service Planning Subcommittee (SPS): members continue to work on the Wheel-Trans 10-Year Strategy by adding more Access Hubs and connecting routes to support the Family of Services (FOS) initiative.
Most recently, ACAT celebrated the opening of St Patrick subway station, as the 45th station to become fully accessible as part of the Easier Access program.
If you are interested in learning more about ACAT, or would like to provide feedback, please email us at ACAT@ttc.ca or attend our monthly public meetings on the last Thursday of every month at 1900 Yonge, from 1:00 p.m. to 3:30 p.m.
Mazin Aribi
2019 Chair of the Advisory Committee on Accessible Transit (ACAT)
Upcoming Events
Access Expo (formerly People in Motion)
Variety Village, 3701 Danforth Avenue

Thursday June 6 from 4 to 8 p.m.

Friday June 7 from 8 a.m. to 7 p.m. Wheel-Trans 10-Year Strategy Public Meeting

May 30, 2019 from 6:30 to 8:30 p.m. at St. Paul's Bloor Street

Learn about Family of Services and our new mobile app, and provide feedback on re-registration and conditional trip-matching.
Wheel-Trans Public Meeting on re-registration and conditional trip-matching
Information about date and time will be shared when it's available. ACAT General Meetings at 1900 Yonge Street, 7th floor Boardroom, from
1 to 4 p.m.

Thursday May 30, 2019

Thursday June 27, 2019

Thursday July 25, 2019

Thursday August 29, 2019

Thursday September 26, 2019 Information sessions to join ACAT
Information sessions to join ACAT
There are two information sessions happening in July at Toronto City Hall, located at 100 Queen Street West, for those wishing to join the Advisory Committee for Accessible Transit:

Friday July 26, 2019 from 7 to 8:30 p.m., Committee Room #2

Wednesday July 31 from 1 to 2:30 p.m., Committee Room #1

If you wish to apply to be an ACAT member you must attend one of the two information sessions to receive and application
St Patrick Station now accessible
St Patrick Subway Station, located at University Avenue and Dundas Street West is now accessible! The entrance at 480 University Avenue (northwest corner) is equipped with an elevator which can take customers to the platform level. St Patrick Subway Station is the 45th station to be made accessible.
Phase III of TTC's Easier Access project will make the remaining subway stations accessible by 2025. The following subway stations are currently under construction: Dupont, Royal York, Yorkdale, Wellesley, Chester, Wilson and Runnymede. Easier Access projects involve a number of features such as installing elevators, repairs to interior and exterior finishes, lighting, signage, accessible doors and station entrances and improved signage and wayfinding features.
PRESTO
PRESTO Tickets - a new way for customers to pay their fare on the TTC
One-ride, two-ride and day pass PRESTO Tickets are available for sale from the Fare Vending Machines at all stations from Vaughan Metropolitan Centre to
Lawrence West.
PRESTO Tickets are ideal for infrequent travellers and visitors to the city. They will be available at all subway stations by this summer and select Shoppers Drug Mart locations in Toronto later this year.
A one-ride ticket costs $3.25, a two-ride ticket costs $6.50 and a day pass ticket costs $13.00. Each person over the age of 12 is required to have their own PRESTO Ticket. This also applies to the day pass PRESTO Ticket. A group/family day pass PRESTO Ticket is not available.
Just like a PRESTO card, customers must tap their PRESTO Ticket every time they enter a subway station and whenever they board a bus or streetcar. Their tapped PRESTO Ticket is their proof-of-payment and they should hold onto their ticket while travelling on the TTC and be prepared to show it to a TTC fare inspector if they are asked. Once their fare has been used, or their transfer or day pass has expired, customers must purchase another PRESTO Ticket or pay by cash. Unlike a PRESTO card, PRESTO Tickets are not reloadable.
PRESTO Tickets are currently not accepted on sedan taxis, but will be starting this summer once pay-as-you-go PRESTO payment is available in these vehicles. Currently only customers with a monthly pass loaded onto their PRESTO card can pay their fare by PRESTO in a sedan taxi. All other customers must pay by cash, ticket or token.
PRESTO cards still provide the lowest fare at $3.10 per ride for adults or $2.15 for youths or seniors. They are available at Fare Vending Machines at all TTC subway stations, at Shoppers Drug Mart locations, online at prestocard.ca and from the TTC's Customer Service Centre at Davisville Station. Cards cost $6 and can be loaded with money or monthly passes. PRESTO cards can also be set up to automatically load money or renew passes so customers never have to worry about whether they have enough to pay their fare. You can also set up a My PRESTO Account online at prestocard.ca to protect your balance or monthly pass if your card is ever lost or stolen.
To learn more about using PRESTO on the TTC, visit ttc.ca/presto
Taxi Services Update
Licensing
Every licensed taxi cab driver receives mandatory training on accessibility, provided by an authorized training organization. Every new taxi cab driver must undergo training on Wheel-Trans policies and procedures; drivers also receive annual 'refresh' training. Any driver that is found to be in violation and at fault must attend refresher training before resuming work with Wheel-Trans customers.
Video cameras in taxi cabs
Every single licensed taxi vehicle in the City of Toronto must, by law, have a camera in the interior of the cab. The TTC mandates every vehicle have two cameras, one for the driver seat and one for the backseat, and that the video footage be kept for 30 days in the event of a reported incident occurring. These video cameras are to protect Wheel-Trans customers and contracted drivers alike.